Wattle Farm Borders News
Major news 2017
Sydney Royal Show
| | |
| --- | --- |
| Grand Champion Ram Sydney Royal 2017 | |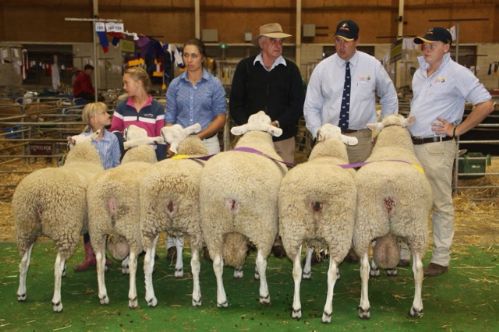 Best group of six Borders Sydney Show 2017


Major news 2016
Sydney Royal Show
- Junior and Grand Champion Ram
NSW Sheep Show ( Dubbo )
- Junior and grand Champion Ram
- Longwool Interbreed Ram and Border sheep of the show
Australia Sheep and Wool Show ( Bendigo )
- Champion ram and Ewe
- Interbreed Longwool sheep of the show
Melbourne Royal show
- Champion Ram and Ewe of the show and Interbreed sheep of the show.
Our annual sale was also a magnificent day for my family and I even accounting for the appalling weather.
Being Elected as the President of the Australian Border Leicester Association.
Major news 2015

Sydney Royal Show
- Junior champion and Grand champion Ewe
- Reserve senior Champion Senior ram
- G B Richardson Trophy
Hawkesbury and Castle Hill
- Champion and Reserve champion Meat breeds Ewes of both shows.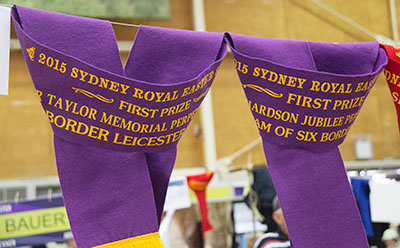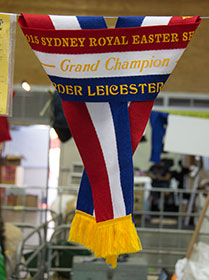 Strong wool ( Benalla )
- Champion and Reserve Champion ram and ewe
- Breeders Group of three and four sheep.
- Champion Fleece of the show
NSW Sheep Show Dubbo
- Junior and Grand Champion ram
- Champion Interbreed longwool Ram
- Junior champion and Grand champion ewe of the show
- Supreme Champion Ewe of the 2015 Landmark NSW sheep show 2015
Sheepvention
- Reserve Champion Ewe
- Junior Champion Ram
- Grand champion Ram
- Supreme Longwool Interbreed group.
Temora
- Supreme Ram and Ewe of the show.
Melbourne Royal Show
- Junior Champion Ewe
- Grand champion Ewe
- Supreme Interbreed Ewe of the 2015 Royal Melbourne Show
Major news 2014
Canberra Royal
- Champion Junior Ram
- Reserve Champion Ram
Sydney Royal
- Champion Ram
- Reserve Champion senior ram
Strong Wool Breeders
- Supreme Ewe of Show
NSW Sheep Show
- Supreme Longwool Ram of the Show
- Champion Ram of the Show
Australian Sheep and Wool Show
- Junior Champion Ram
- Reserve Champion Ram of the Show
Melbourne Royal
- Ram part of the successful ram trifecta
- 1st in class ram over 1 ˝
Temora and Junee Shows
- Supreme rams and Ewes in both shows
- Most Successful in both shows
2014 Annual Production sale Friday 17th October 2014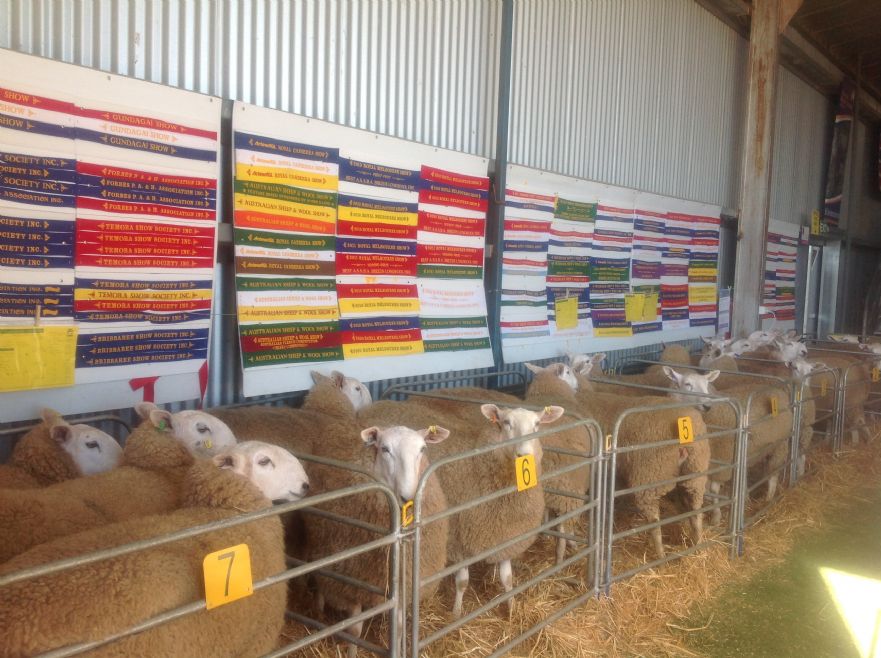 Sale Day 2014
2014 Cast For Age Ewe sale Friday 14th November 2014
For more information please contact Jeff Sutton.
---

2014- So Far
Wattle Farm is most successful Border breeder at Henty and Gundagai shows
At Canberra Wattle Farm win both the junior ram and ewe titles along with both the group titles
---

2013 in Review
Major news for Wattle Farm in 2013 included winning Broad ribbons at major shows including
Sydney Royal 2013
NSW Sheep Show
Sheepvention at Hamilton in Vicoria
Melbourne Royal
Sydney Royal Show 2013
Excerpt from a Daily Telegraph article -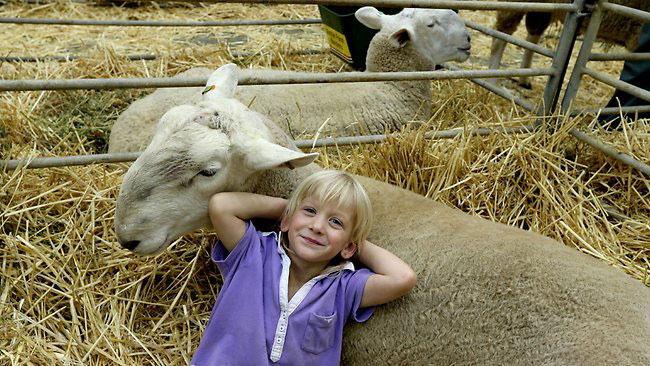 Christina Sutton from Temora / Pic: Ross Schultz Source: The Daily Telegraph
SYDNEY ROYAL EASTER SHOW 2013
IT'S time to get the Show on the road again. All the way from Temora, in central western NSW, Jeff Sutton's prized sheep will be among the first to be judged in the Sheep And Wool Pavilion when the gates to the Sydney Royal Easter Show officially swing open today.
His Border Leicester sheep was crowned Australian Champion last year and he has returned to Sydney this year, with his four-year-old daughter Christine, in a bid to claim some more blue ribbons.
"We're certainly hoping to win it again," he said.
"I'd say our chances are pretty good, too. He's a very classy sheep with a tremendous head and fleece."
While the Show will not open during school holidays for the first time in years, organisers still expect 900,000 visitors through the turnstiles each day.
The show's chief operating officer Michael Collins said all the rides, food stalls, displays, animals and shows were ready to go and many had worked hard over the past few weeks to get everything done in time for today's opening.
"This year the Show is celebrating 190 years since the very first one was held in 1823 at Parramatta Park," Mr Collins said.
"This year's Show is another amazing example of the mix of the tradition, innovation and recognition of excellence that makes this annual event so special."
New to the Show this year is Darcy's Quest, a uniquely Australian spectacular featuring a 8m-high steel robot, monster trucks, pyrotechnics and stunt motorcyclists, which tells the story of a world without animals.
Showgoers will also love the new beer and wine garden as a space to enjoy some award-winning produce from around the country.
Mr Collins said the annual event was Australia's biggest and most respected agricultural show.
"So many Sydneysiders have wonderful memories of their visits to the Show and, indeed, some of our exhibitors and competitors are following amazingly strong family traditions to be here," he said.
---
Ewe beauty! Sheep judging returns to show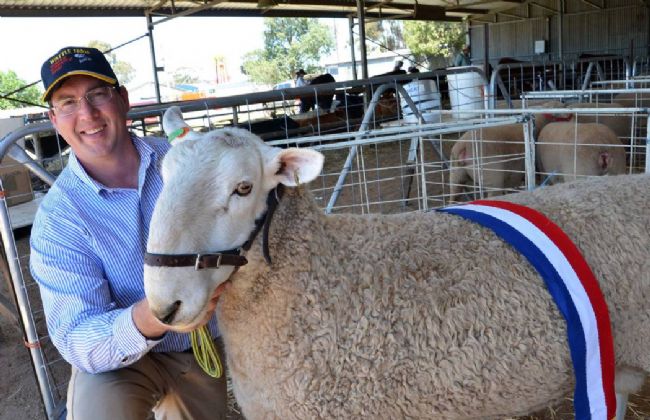 After more than a decade's absence, sheep judging returned to the Junee Show, with Temora's Jeff Sutton claiming the supreme champion ram. Picture: Declan Rurenga
FOR the first time in 12 years, sheep judging returned to the Junee Show.
Hundreds took advantage of the spring sunshine to visit the agricultural showcase and sample the excitement of sideshow alley.
Judge Kelvin Cronk said the return of the sheep judging was fantastic.
Entries included border leicesters and prime SAMMS.
"The quality of the sheep is very good," Mr Cronk said.
"Some of the sheep here have been to Royal Easter Show in Sydney, Canberra, Melbourne and the NSW sheep show in Dubbo and the national sheep show in Bendigo."
---
Wattle Farm Border Leicester Annual Sale
on Property
Friday 13 September 2013
Wattle Farm Exceeds
Wins -  Riverina All  Breeds Meat Performance Ram and the Supreme All Breeds Meat Performance Ram at the, Sheep Expo Deniliquin.
Inaugural Wattle Farm Border Leicester Production Sale 2012
52 Flock Rams Selling to a top of  $1150 and averaged $768.00
20 Stud Ewes Selling to a top of $650.  and averaged $460.00
7 Stud Rams selling to a top of $2600  and averaged $2014.00
A wonderful day had by all, family and buyers. Looking forward to our next sale in Sept 2013.
2012 On Property Border Leicester Annual Sale catalogue - PDF
2012 Sheep Showing Results
Australian Sheep and Wool Show 2012
Winners of Best ASSBA ram under 1 ˝ in wool, Best ASSBA Breeds Ewe over 1 ˝ years , Champion ASSBA.
| | |
| --- | --- |
| | Marie Sutton of Wattle Farm accepting the prize from Landmark for the Champion Border Leicester Fleece of the Australian Sheep and Wool Show 2012 |
Sydney Royal 2012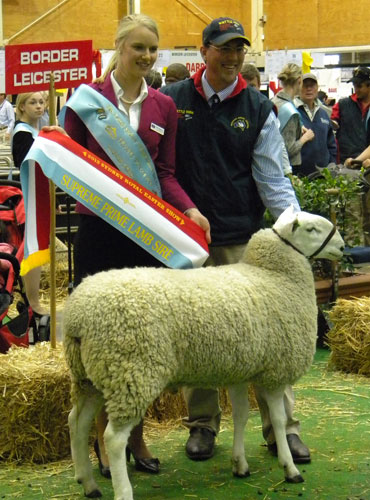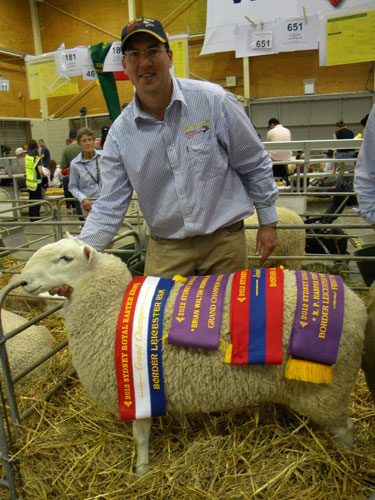 The R P Harper Perpetual Prize for a ram under 1 in the wool
Champion Junior Border Leicester Ram
Grand Champion Border Leicester Ram
The Brain Walton Memorial Perpetual Trophy
Supreme Prime Lamb Sire of Sydney Royal Show 2012
Gilmore Trophy for the best pair of Grand Champion Sheep of the Sydney Show 2012-04-18
Gundagai 2012
Junior Champion Ram, Junior Champion Ewe, Reserve Champion ewe, 1st ram and two ewes, 1st two rams and two ewes
Canberra Royal Show 2012
1st and 5th shorn rams, 1st and 3rd shorn ewes, 2nd group of six sheep, 3rd group of 1 ram and 2 ewes, 3rd and 4th woolly rams, 2 two tooth ewe
Henty Show 11/02/2012 - Supreme Exhibit; Champion Ram and Reserve Champion Ram; Champion Ewe and Reserve Champion Ewe; Supreme Interbreed Group.